Product Brief: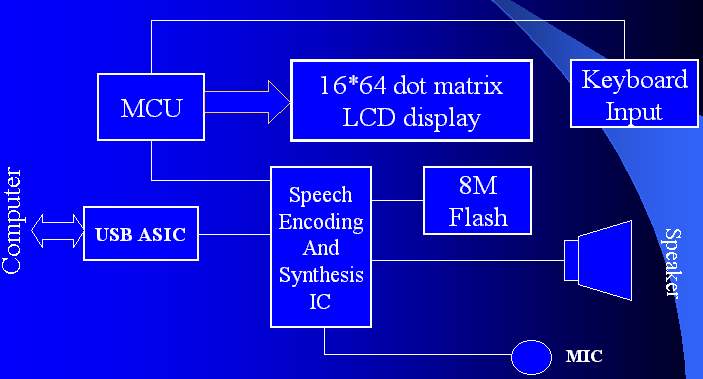 The system is developed and designed based on a low cost DSP device, a low

cost MCU and an USB ASIC as the core unit resided with powerful and state of the art algorithm and software so that voice data can be downloaded, playback and synthesized through this system

It can accommodate more than 30 minutes speech duration through internet download by a 2M byte Flash memory.

A 16* 64 dot matrix LCD display enables user friendly manual and simple display of the description of the content downloaded.

Recording algorithm based on state of the art low bit rate vocoder which

enables cost effective storage space and supreme voice quality

.

Because everything is in digital format, it allows searching of content in an easy and speedy manner. Traditional analog device needs tedious rewind and fast forward of the tape during content searching.

Data can be encoded so that the unit number, title, chapter number etc can be displayed on the LCD screen to enable easy access of the content.

Depending on the application requirement, the content data can also be encoded so that even the English sentence, Chinese characters etc can also be displayed on the screen with a higher resolution LCD.

As it is fully digitized and no mechanical parts for the analog tape is required, its final size could be as small as half the size of a pack of cigarette.

Its power consumption is much more lower than the analog tape devices; three AA batteries can enable more than 15 hours continuous playing.

The after sales services is almost minimal as there is no mechanical part inside which is usually the cause of a device mal-function.

It is durable even for the content; the voice quality of tape deteriorated after many uses.

Unlike the

analog tape devices, the internet downloadable system requires a lot of engineering resources to develop and it takes more than one year to complete. And unlike the analog tape devices, the system contains a lot of proprietary algorithms and design that your competitors/followers will be very difficult to copy the design and launching similar products is almost impossible.

Learning through internet is getting popular and many manufacturers are looking at this market segment, but they just do not have the cost effective solution to address to this market. And we can help you out on this.